A Note on Leather Massage Chairs
Spoiler Alert: Virtually every "leather" massage chair on the market today is actually made of faux leather.
Once upon a time, massage chairs were made with real leather. It was assumed that the material was of higher quality, but the industry quickly realized its flaws when used to construct massage chairs. Here's why:
First, leather is very sensitive. The stiffness of the material weakens its ability to withstand pressure from the rollers in a massage chair, which leads to premature wear, stretching and flaking.
Real leather is absorbent. Sweat and spills can soak into the chair and break down the natural material.
Heat therapy is an issue. One of the best and most beneficial massage chair features is heat therapy. Since real leather doesn't breathe, heat technology will cause the material to crack.
Warranties aren't always helpful. Products made with natural leather don't usually offer coverage for material damage, which is inevitable. If your natural leather massage chair becomes too worn, you might need to purchase a new one.
With leather's shortcomings for massage chairs, the industry turned to a realistic, durable alternative: faux leather!
The Beauty & Resiliency of Faux Leather Massage Chairs
Faux leather — aka polyurethane synthetic leather — picks up where natural leather is lacking.
You likely encounter some type of faux leather every day — car interiors, fashion accessories, upholstery, etc. Faux leather is designed to be long-lasting, low maintenance and resilient, making it the perfect material for regularly used items.
Natural Leather vs. Faux Leather Massage Chair Comparison
Natural leather may be fine for belts, purses and wallets, but the material has no business being in your massage chair.
Here's a quick side-by-side look at the construction of real leather and faux leather.
Natural Leather
Faux Leather

Fades in sunlight over time.

Difficult to clean.

Absorbent — liquids or sweat can break down the material.

Massage rollers cause the material to crack and flake.

Not breathable, limiting your heat therapy options.

Wear is not typically covered by the warranty.

Even color that can be dyed.

Low maintenance — just wipe clean with a rag and warm water.

Durable — easily withstands scratches and scrapes

Long-lasting — endures pressure from rollers with ease.

Feels and looks just like real leather.

Made specifically for each massage chair.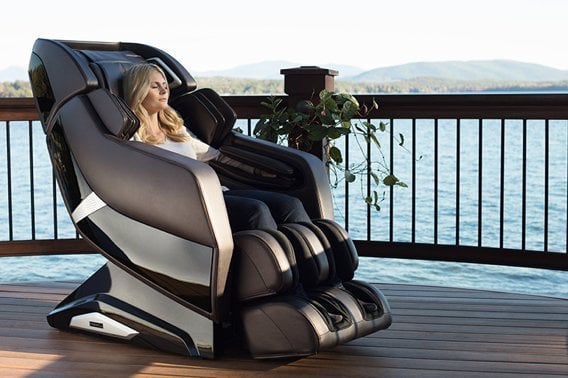 Caring for Your Faux Leather Massage Chair
If you're welcoming a new massage chair into your life, you want to be able to use it whenever you want, right?
Faux leather massage chair manufacturers — like Infinity and Kyota — put their products through months (and sometimes years) of testing. The goal is to make sure that each one can withstand typical wear from frequent use, so you can relax in your massage chair as much as and whenever you want!
These brands incorporate thick, high-quality layers for maximum, long-term durability. Cleaning them is incredibly easy. While the specifics will depend on the model you purchase (always check your owner's manual!), you can usually just use a rag and warm water to freshen up your massage chair.
The massage chair brand you select may offer cleaning and conditioning kits, like this one from Infinity.
Massage Chair Store is #1 in Customer Service
Our goal is helpful, supportive customer service. We're proud to hold an A+ rating with the Better Business Bureau and have received countless 5-star reviews on Trustpilot. Whatever your massage chair questions may be, we're always here to help!
Browse Our Selection of Faux Leather Massage Chairs
Beautifully realistic, durable and low maintenance. You'll find faux leather in 99% of all massage chairs on the market today.
Shop Faux Leather Massage Chairs
Infinity Evolution 3D/4D
5999.00
Kyota Kofuko E330
3499.00
Browse Our Heated Faux Leather Massage Chairs
Faux leather massage chairs designed to support the undisputable benefits of heat therapy.
Infinity Dynasty 4D
9999.00
Private: Infinity IT-8500
4999.00
Browse Our Zero Gravity Faux Leather Massage Chairs
Using a deep recline position, zero gravity evenly distributes your body weight to reduce stress on your back and neck.
Shop Zero Gravity Massage Chairs
Infinity Evolution 3D/4D
5999.00
Private: Infinity Altera
2999.00
Private: Infinity Genesis 3D/4D
4999.00