About Infinity Massage Chairs
As a pioneer in the massage chair industry, the Infinity brand name has been synonymous with high-quality engineering and innovation since its inception in 2009.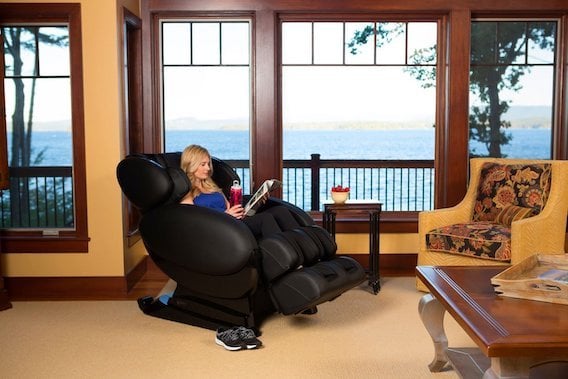 Infinity's loyal customer base, excellent reviews on Trustpilot and A+ rating with the Better Business Bureau have made the brand the premier choice for massage chair technology.
What makes Infinity massage chairs unique is the careful orchestration of every massage. The therapeutic elements are choreographed to work in tandem with Infinity's advanced technology, from reflexology and space-saving mechanisms to voice control and Bluetooth connectivity.
Every Infinity massage chair model is carefully manufactured to provide you with the best massage experience possible.
Massage Chair Store offers the following for Infinity models:
Free delivery
Risk-free, 100-day trial
0% financing for up to 48 months*
Benefits of Infinity Massage Chairs
For over 10 years, Infinity has been the leader in technology advancements for the massage chair industry. In fact, many of the most popular features and functions of modern full-body massage chairs were first pioneered by Infinity! And thanks to their diverse product line, there's an Infinity massage chair model designed to fit any budget and lifestyle.
Looking for a classic massage chair that will fit seamlessly into your home? The Infinity Riage CS is part massage chair, part recliner. Or, if you're looking for a more technologically advanced massage chair, the Infinity Imperial is an L Track, 3D model with high roller intensity and all the bells and whistles you'd ever need.
Other relaxation-focused massage features of many Infinity models include:
Airbag compression therapy
Apple and Android mobile app functionality
Automatic footrest extension
Spinal correction and waist twist
5-Year U.S. Residential Limited Warranty
All Infinity massage chair models come with:
5-year structural frame warranty
Unlimited U.S.-based customer and technical support
No-cost replacement on covered parts for 3 years
No-cost on covered parts and covered labor (in-home, if necessary) for 1 year
Fully Stocked Warehouse of Parts & Components
Infinity has a U.S.-based inventory of individual parts and components for every model of massage chair they manufacture. So, if your massage chair ever requires a part, a replacement can be on its way in a fraction of the time it would take to get from other brands.
Massage Chair Store is #1 in Customer Service
We believe that customer service is the most important aspect of researching and purchasing a new massage chair. That's why we're incredibly proud of our A+ rating with the Better Business Bureau and countless 5-star reviews on Trustpilot.

Whether you have a question about a certain Infinity model or want to better understand a certain type of massage technology, our massage chair specialists are happy to provide answers, recommendations and any other information you may need!
Shop the Best Infinity Massage Chairs
The possibilities are infinite. Browse our selection of Infinity massage chair models below.
Infinity Prelude™
4299.00
Infinity Evolution 3D/4D
5999.00