Got Back Pain? Sit Smarter with the Best Chairs for Back Pain Relief
From ergonomic office chairs to recliners and massage chairs, use this guide to find the best chairs for back pain relief.
What's Causing Your Back Pain?
The American Chiropractic Association lists a few serious (but not surprising) back pain statistics:
80% of Americans experience back pain in their lives. Back pain doesn't discriminate — it can affect any race, gender or age group, from adolescents to the elderly.
Back pain is the leading cause of disability and one of the most common reasons people miss work or school. More than 264 million workdays are lost in a single year because of back pain.
Every year, lower back pain costs Americans at least $50 billion in health care costs.
Anything from a severe sports injury to just twisting your body the wrong way to pick up a pen off of the floor can lead to back pain. Everyone's back pain will have a unique cause and effect.
Mayo Clinic explains that, "back pain often develops without a cause that your doctor can identify with a test or an imaging study." But they do list the following as common causes:
Bad posture
Arthritis
Stress
Bulging/ruptured disks
Osteoporosis
Muscle/ligament strain
Organ disease
No matter the cause, there are many things you can do to alleviate your back pain — even if it's just temporary relief. One way is to sit smart by finding the best chair for back pain relief.
Why Your Chair Choice is Critical for Back Pain Relief
Let's be real. When it comes to back pain, you need more than just four sturdy legs and a padded back rest.
This is especially true if you sit in a chair all day for work or school. Exercise, standing and moving throughout the day can help, but sitting is just a part of life.
You can, however, sit smart! The right chairs can help reduce your back pain by:
Promoting better posture
Reducing stress on your back
Protecting your lumbar spine
Preventing slouching
Aligning your hips and pelvis
There are three types of chairs that can be used to reduce back pain: office chairs, recliners and massage chairs. Read on to see the features of each chair type that can help relieve your back pain.
Recliners for Back Pain Relief
Recliners are famous for back pain relief because they are padded, offer lumbar support and can be far more comfortable than a boring old accent chair. You might even find a few recliners that come with massage technology!
The "recline" part of a recliner allows you to sit back, put your feet up and relax the muscles in your back. Some models incorporate zero gravity technology, which elevates your legs and feet and evenly distributes your body weight. This technology can take pressure off of your back and neck, while relaxing all of the muscles in your body.
When you're shopping for the right recliner, Pain Doctor has a few recommendations:
Test the chair for yourself by sitting in it for at least 5 minutes.
Check that it's made with durable, long-lasting materials like poplar or plywood.
Read customer reviews, especially from those with similar pains.
Verify that it comes with a worthwhile warranty.
Since recliners let you stretch out more than some couches, you can enjoy your chair while watching TV, reading or even for just a few minutes to relieve pressure from your back. Visit Pain Doctor's shopping list of recliners to browse a selection of the models.
Office Chairs for Back Pain Relief
How many hours a day do you spend sitting? Whether it's at home or the office, you likely spend most of your day seated.
The best office chairs for back pain offer lumbar support and just the right amount of cushioning. When you're sitting, your chair needs to support proper posture so that you don't end up slumping over your keyboard.
Bottom line: If you sit for extended periods of time during the day, you absolutely need an ergonomic office chair.
Ergonomic Office Chairs
These chairs can improve your form and posture, and are way more comfortable than traditional chairs.
You can adjust nearly every component of an ergonomic chair, including:
Seat height
Seat slider
Back rest
Back angle
Arm support
Headrest angle
Ergonomic chairs also have features like lumbar support, stable wheelbases and swivel bases. For a shopping guide, check out The Balance's review of the best ergonomic office chairs for back pain relief.
A Note About Fitness Ball Chairs
Although there's high appeal, Mayo Clinic cautions against sitting on a fitness ball for a long period of time.
Prolonged balancing has the potential to increase discomfort in your back. If you have a fitness ball or are interested in trying it for your pain, just don't sit on it for an extended period of time.
Massage Chairs for Back Pain Relief
Taking the relaxation properties of recliners to an entirely new level, massage chairs are comfortable AND practical for those suffering from back pain.
Massage therapy has long been known to reduce stress and soothe muscle aches. Did you know that it's also used to reduce back pain from conditions like sciatica?
A massage chair brings these benefits into the privacy of your own home or office. Whether you use it once a week or every day, the right massage chair can make a huge difference in your short-term or long-term back pain.
Massage Chair Features That Ease Back Pain
Full Back Massage: The rollers in L Track massage chairs travel from your neck down to your glutes or hamstrings, so you can experience an authentic full back massage.
Decompression Stretch: By lengthening your spine, this setting relieves pressure from the nerves and muscles in your back. It also encourages the flow of water, oxygen and nutrients into your spinal disks to help heal painful areas.
Zero Gravity: In a zero gravity position, your legs can either be leveled with your back or elevated above your heart. This distributes your weight and reduces stress on your back and neck.
Heat: Not only is it warm and cozy, the heat setting also loosens tight back muscles and opens up your body to fully experience the benefits of the massage.
Adjustable Intensity: Some days you might need a deep tissue massage while others you may just want gentle pressure. Most massage chairs have adjustable intensity levels so you can customize your experience to whatever your back needs.
Massage Chair Tip
A 10-minute decompression stretch massage first thing in the morning can be the best thing you do all day! This increases blood flow, loosens your joints and opens up your intervertebral disks, reducing any stiffness or inflammation you may have had overnight.
The Best Massage Chairs for Back Pain Relief
The IT-8500 X3 delivers a deep tissue neck and shoulder massage. The spinal correction setting even provides waist twisting as a gentler option for back pain relief.
Choose from five different intensity levels with the Genesis. The lumbar heat and decompression stretch settings soothe and loosen your muscles and relieve pressure from your spine.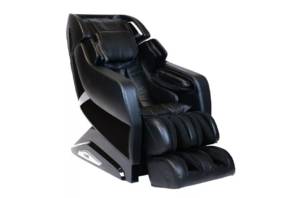 The restorative features of the Infinity Riage X3 include powerful stretching techniques and mild waist twisting. As an added relaxation benefit, the rocking technology in this massage chair mimics the feeling of a rocking chair.
To see more massage chairs for back pain relief, see our complete guide to the best massage chairs.
Whether you're looking for an office chair, recliner or massage chair, you'll have tons of brands and models to choose from. In your search for the best chair for back pain relief, just be mindful of your personal preferences and pain points. Read online reviews, ask for your friends' opinions or even consult with your doctor to find your perfect fit.
You can also chat with one of our massage chair specialists. Use our website live chat or request a free consultation. We're more than happy to help you find relief from your back pain!