Luxury Massage Chair Buyer's Guide: 6 High-End Models to Check Out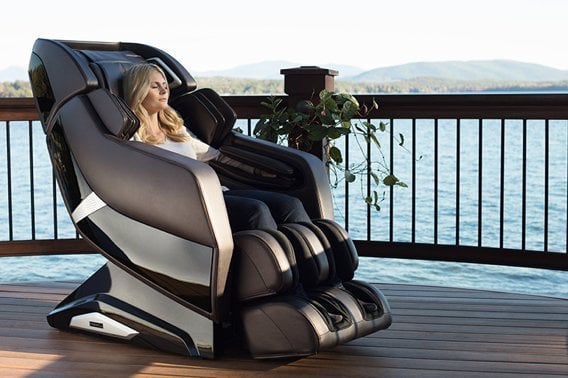 A luxury massage chair offers maximum comfort and relaxation with innovative features that standard models just can't match. From 3D and 4D massage technology to voice control capabilities, a luxury massage chair that is tailored to your needs will enable you to reach the absolute pinnacle of leisure.
To help you find the right high-end massage chair for your needs, we've compiled a list of suggested brands and models, as well as details on what to look for in a luxury product.
What Makes a Massage Chair a "Luxury" Model?
There are 3 main qualities that represent a luxury massage chair: Features, price and support.
Features
There are 7 key features that all top-of-the-line luxury massage chairs will have:
3D or 4D Massage Technology: The technology of the massage rollers allows you to adjust the intensity for a more personalized massage.
Bluetooth® Connectivity: Allows you to listen to music, guided meditation or your favorite podcast through speakers in the headrest.
Calf & Knee Massage Rollers: Most massage chairs only have rollers in the foot rests and back, but luxury models also feature rollers and airbags for the calves and knees.
Heat Therapy: Heating modules help soothe your muscles and better prepare your body for the benefits of your massage.
L Track Design: An L Track massage chair has rollers that travel from your neck down to your glutes. In some models, they will even travel down to your hamstrings!
Mobile App Remote Controls: By downloading an app, you can control your massage from your smartphone.
Zero Gravity: Using technology inspired by NASA, zero gravity elevates your legs above your heart to create the feeling of weightlessness.
Many luxury models also offer their own version of select features:
Airbag Compression Therapy: Strategically placed airbags in the massage chair offer compression therapy in addition to the rollers.
Air Ionizer: A small vent in the headrest clears the air of dust, dander and other irritants for a healthier oxygen intake.
Automatic Foot Rest Extension: This easily and automatically accommodates the foot rest to your leg length and comfort.
Body Scanning: The massage rollers will be tailored to your body in order to hit your pressure points.
Chromotherapy: Light therapy creates a visually relaxing experience to help you balance your mental, spiritual and emotional energy.
Reflexology: Foot rest rollers apply pressure to both the soles and tops of your feet.
Voice Control: Simply tell your massage chair what you'd like! Some models will also have Amazon Alexa integration capabilities.
Price
Because luxury models include all the bells and whistles you could ever want or need, they have a higher price point than standard models.
You'll see luxury models with price ranges between $7,000 and $12,000, but it's not uncommon for certain brands go beyond this. As with any type of technology, you get what you pay for.
Pro Tip: Many brands stock certified, pre-owned massage chairs that may be available at a lower price than brand-new options.
Support
A luxurious product requires luxurious support! It's an absolute must for manufacturers and distributors to offer top-of-the-line support for their products.
Review testimonials and product reviews to vet your new massage chair and be sure to only purchase from companies with:
The 6 Best Luxury Massage Chairs
In no particular order, below are our picks for the top luxury massage chairs on the market.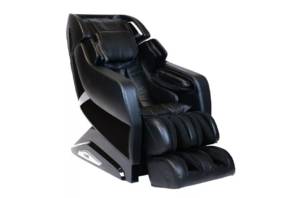 Infinity's Riage X3 model has a sleek, modern design that comes in three different colors. But it's so much more than just a pretty face. This model features top-of-the-line restorative technology for a stylish, full body massage experience.
Spring-loaded foot rests include powerful reflexology foot rollers for a kneading-style foot massage. The Riage X3 is also well-known for its spinal correction and waist twist capabilities to help better align your spine and stretch out the muscles in your lower back.
Price: $6,799
Massage Techniques:
Combination
Kneading
Knocking
Rubbing
Shiatsu
Tapping
Luxury Features:
3D Massage Technology
Airbag Compression Therapy
Apple & Android Mobile App Remote Controls
Bluetooth Connectivity
Body Scanning
L Track
Lumbar Heat
Reflexology
Rocking Technology
Spinal Correction & Waist Twist
Spring-Loaded Foot Rest
Zero Gravity
Warranty:
Infinity offers a 5-year residential limited warranty that includes:
USA-Based Customer & Technical Support
Structural Framework Coverage
No-Cost Replacements on Covered Parts for 36 Months
Color Options:
Artistic Taupe
Black
Brown
---
Fujimedic's Kumo model provides a cutting-edge massage experience from head to toe. On top of a massage that will precisely target acupuncture points, the Kumo features chromotherapy LED light patterns, Bluetooth speakers and an easy-to-use touchscreen control panel. You can also customize and save up to 3 massages using the Kumo's memory setting.
Price: $9,999
Massage Techniques:
Clapping
Kneading
Rolling
Shiatsu
Swedish
Tapping
Luxury Features:
4D Heated Rollers
Airbag Compression Therapy
Armrest Remote Control
Bluetooth Connectivity
Chromotherapy
Heated Calf & Knee Therapy
L Track
Reflexology
Space-Saving Technology
Touchscreen Control Panel
Zero Gravity
Warranty:
The Kumo includes a 3-year full coverage warranty with in-home service and coverage for parts and labor at no cost.
Color Options:
Midnight Red
Pearl White Cappuccino
Pearl White Espresso
Pearl White Ivory
---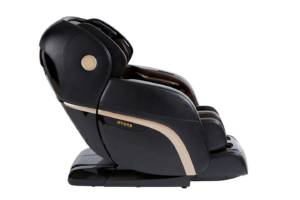 The Kyota M888 is a sophisticated model with both 3D and 4D massage capabilities. Advanced sensors are able to automatically adjust the leg extenders for maximum comfort, making this model ideal for multiple users.
The M888 also features a J Track design, which combines the best features of L Track and S Track massage chairs and allows you to enjoy both a spinal decompression and a glute massage.
Price: $8,999
Massage Techniques:
Kneading
Knocking
Shiatsu
Tapping
Luxury Features:
4D Massage Technology
Air Ionizer
Bluetooth Connectivity
Heat Therapy
J Track
Oscillating Calf Massager
Reflexology
Shoulder Air Compression Therapy
Space-Saving Technology
Voice Control
Wireless Remote
Zero Gravity
Warranty:
Kyoto offers a 4-year residential limited warranty that covers the structural framework and includes unlimited US-based customer and technical support. There is also no-cost for replacements on covered parts for 2 years.
Color Options:
---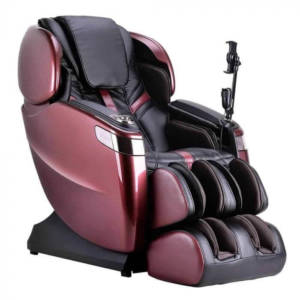 Ogawa's Master Drive AI was designed to target crucial acupuncture points in the back, elongate the spine and improve posture.
The "AI" in the model name refers to Ogawa's Chair Doctor. This technology is powered by artificial intelligence (AI) and can prescribe a massage based on your present tension and stress levels. Sensors in the massage chair will read your heart rate, detect areas of tension and even sense your blood oxygen levels to provide a massage that is completely customized to what your body need.
Price: $11,999
Massage Techniques:
Clapping
Kneading
Rolling
Shiatsu
Swedish
Tapping
Luxury Features:
4D Massage Technology
Airbag Compression Therapy
Amazon Alexa Integration
Armrest Remote Control
Bluetooth Connectivity
Body Scanning Technology
Chromotherapy
L Track
Reflexology
Samsung Tablet with Ogawa App
Zero Gravity
Warranty:
Ogawa offers a 5-year limited warranty for the framework of the massage chair, as well as 3 years of coverage on parts and in-home service and labor.
Color Options:
Blue & Sand
Burgundy & Black
Graphite & Espresso
---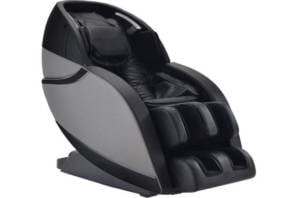 The most feature-rich massage chair on the market from a brand known for luxury, the Infinity Evolution is the perfect blend of innovative technology and convenience.  Easily adjust your massage using voice controls and save 2 custom massages in the MyMassage program.
If a deep foot massage is part of your relaxation plan, the Evolution comes with 3 rollers per sole to hit the pressure points necessary for a true reflexology massage.
Price: $8,999
Massage Techniques:
Kneading
Knocking
Shiatsu
Sync
Tapping
Features:
3D Massage Technology
Apple & Android App Remote Controls
Air Ionizer
Automatic Foot Rest Extension
Bluetooth Connectivity
Body Scanning Technology
Calf Rollers & Oscillation
Heat Technology
L Track
USB Charging Station
Voice Control
Zero Gravity
Space-Saving Technology
Warranty:
Your Infinity Evolution will come with a 5-year residential limited warranty, which covers structural framework, no-cost replacements on covered parts for 36 months and USA-based customer and technical support.
Color Options:
---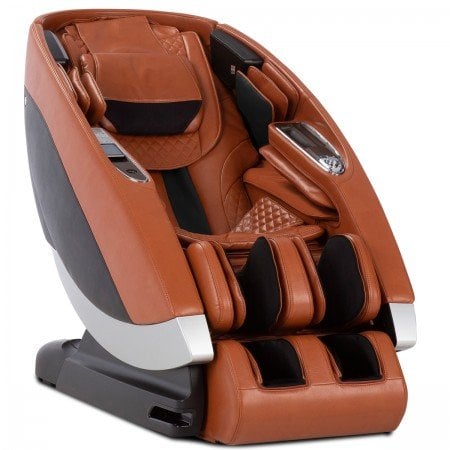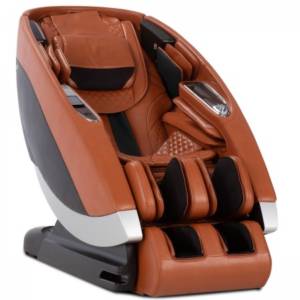 Human Touch's Novo XT2 comes with a built-in Altec Lansing premium sound system so you can enjoy calming nature sounds, your favorite relaxation playlist, audiobooks or anything else that puts your mind at ease.
One unique feature of this model is that it comes with the arms pre-installed — which means less time assembling and more time relaxing!
Price: $8,999
Massage Techniques:
Audio Sync
Kneading
Percussion
Shiatsu
Tapping
Luxury Features:
3D Massage Technology
Altec Lansing Sound System
Apple & Android App Remote Controls
Body ScanningFoot & Calf Massage
Heat Therapy
LCD Remote
S & L Track
Space Saving Technology
Zero Gravity
Warranty:
Human Touch will cover defects in materials and workmanship. The Novo XT2 comes with 1-year in-home service, 3-year parts coverage and 5-year structural support.
Color Options:
Black
Brown
Cream
Gray
Red
Frequently Asked Questions
Q: Where can I buy a massage chair?
A: A lot of luxury brand massage chairs are only available for purchase online. However, some may have showrooms where you can test their products. You may also be able to find certain brands in your favorite brick-and-mortar retail stores. If your local furniture retailer does not currently offer massage chairs, tell them that they should!
Q: What if I purchase a massage chair and don't like it?
A: Before you make your purchase, check the store's return policy. The industry average is 30 to 60 days, but some places (like Massage Chair Store) offer 100-day return policies.
Don't forget to read the fine print of the return policy. Do they offer a money back guarantee? Are you responsible for return shipping costs? Will you be able to return it for a different model? All of this information should be made clear on the company's website.
Q: What do warranties cover?
A: Replacement parts, structural framework and labor are typically included in the first year, and you'll have the option to extend the warranty. The exact details of the warranty will vary by brand, so be sure to check the company's website or inquire with a massage chair specialist.
Questions about luxury massage chairs? Our massage chair specialists are always happy to help guide you through the research and purchase process. We can provide brand and model recommendations and advise you on what features you should look for based on your needs. You can request a free consultation here.