Massage Chair Relief for Lower Back Pain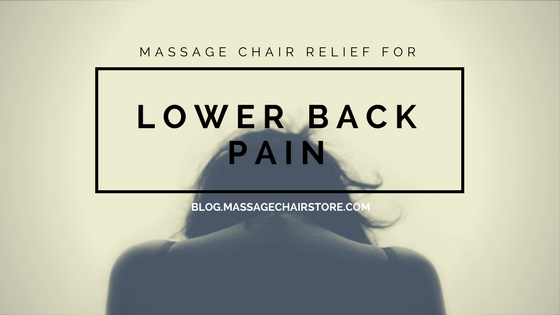 Did you know that lower back pain is the leading cause of job disability in the world? That's right—1 in 10 people suffer from it, and for many of them, it becomes chronic. This is why a massage chair could be the perfect relief for your chronic back pain— but of course, always consult with your doctor first! Read on to learn more about the benefits of massage for lower back pain.
Earlier this year, research released in the journal Pain Medicine found that massage may provide lasting relief for chronic lower back pain. The study looked at how people in the real world respond to massage. Here's a quick breakdown:
Researchers looked at 104 subjects with persistent back pain who were referred by their doctors to licensed massage therapists.
This was a diverse group of patients, including some who were obese, some who had other health conditions exacerbating their back pain, and others taking opioid pain medications.
Over 50% reported clinically meaningful improvement in their back pain.
Three months later, 75% of the participants who reported initial improvement said they still felt better—with no further massage sessions.
Although we are increasingly aware of these important benefits of massage, it is rarely covered by health insurance. Lead author of the study, Niki Munk, an assistant professor of health sciences at Indiana University-Purdue University Indianapolis (and a licensed massage therapist), explained that more studies are needed to help people decide whether massage is worth the out-of-pocket cost. She recommends future research investigate whether massage can help people avoid back surgeries, and how many sessions are truly needed to provide lasting improvement.
How Massage Benefits Lower Back Pain
While more research is necessary to understand how massage works to reduce pain, some already suggests that massage directly reduces inflammation in muscles. One study performed by researchers at McMaster University in Canada found that massage has the same effect as aspirin or ibuprofen. The experiment showed that massage dampened the activity of inflammatory cytokines, proteins that cause inflammation and pain. It also boosted levels of proteins that tell the muscles to produce more mitochondria, the cell structures that produce energy and help muscles recover from activity.
Aside from the limited research, what we know for sure is that massage can help work out spasms and irritation caused by acute low back pain. Since the soft tissues around the spine play a key role in lower back pain, regular exercises specifically targeting those back muscles can also help maintain strength and tone, as well as prevent injury and pain. Regular lower back pain massage performed in conjunction with the proper workouts can also improve circulation, range of motion, and endorphin levels.