Titan vs. Osaki Massage Chairs: What You Need to Know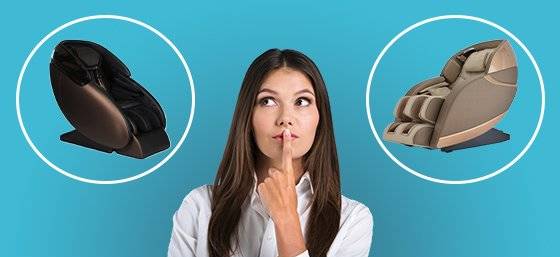 Introduction
In the world of premium massage chairs, it can sometimes be difficult to keep all the brands and their unique features straight. Take Titan and Osaki massage chairs, for example: Though they are technically two separate product lines, they are distributed by the same company based in Carrollton, Texas. This is not meant to mislead customers, by the way — Osaki and Titan massage chairs vary slightly in price and technology but offer the same customer service, warranty and shipping terms.
Here, we break down the differences between these two product lines distributed by OTA World.
OTA World Company Overview
OTA World, which stands for Osaki, Titan and Apex massage chair brands, was established in Dallas, Texas in 2007 and is one of the leading distributors of massage chairs in North America. They partner with over 200 retailers in the U.S., some of which are OTA World franchisees. The OTA World brand targets customers who wish to extend an active lifestyle by investing in their whole-body health and wellness.
Osaki Brand Overview
The Osaki brand features its standard line of massage chairs as well as the Osaki Pro product line. Its flagship line sports most premium features, including body scanning technology, heat therapy and zero gravity recline. The Osaki Pro line offers more luxury elements like full-head massage capsules, variable 4D massage technology and attractive wood paneling.
Osaki massage products are manufactured in China and imported to the U.S. for distribution. Also available are Osaki portable massagers for the feet, neck, eyes and hands.
Osaki Massage Chairs: Quality, Pricing & More
Quality
Osaki massage chairs receive generally favorable reviews. Most models include premium features like zero gravity recline, body scanning technology, S- and L-tracks, heat therapy and wireless device compatibility. The Osaki Pro line includes slightly more advanced technological features and aesthetic elements. Osaki is known for their extensive catalogue of products that cater to a wide range of customer needs.
Price Range
Osaki: $1,999–$5,495
Osaki Pro: $1,999–$9,499
Top Chairs
OS-4000T
OS-PRO Admiral
OS-PRO Maxim
Pro Maestro
Titan Massage Chairs: Quality, Pricing & More
Titan massage chairs are designed to support slightly more weight than Osaki massage chairs, with a limit of 300 pounds (most massage chairs have a 285 lb. weight limit). Titan massage chairs also carry a lower price point than Osaki; Titan models start below $1,000 on the OTA World site.
Some Titan models feature newer technology than Osaki massage chairs like outer shoulder and toe massage functions. Titan massage chairs specialize in targeting back pain, which can be a selling point for customers with lumbar issues.
Quality
The difference in quality between Titan and Osaki products isn't significant. Titan massage chairs also have a favorable rating on Amazon; if anything, the craftsmanship on Titan massage chairs is a bit more polished than on Osaki models. There are currently almost 70 Titan models on the market, with each one presumably improving upon the last.
Price Range
$999–$4,999
Top Chairs
Luca V
TI 7700
Titan Pro Alpha
OTA World Customer Service, Shipping & More
Customer Service
Customers may contact OTA World via multiple channels, including phone, email, or contact form through their webpage. Their hours are 10 AM–7 PM U.S. Central Standard Time.
Warranty
Titan and Osaki massage chairs are covered under a limited 3-year manufacturer's warranty that applies to all parts, labor and framework. Under the standard warranty, there is no additional cost for labor for the first year, no-cost replacement parts for 2 years and free structural framework repairs for 3 years after purchase. One- and 2-year extended warranties cover parts and labor costs for additional years.
Each OTA massage chair carries a 30-day money-back guarantee.
Shipping & Delivery Times
Shipping times within the contiguous United States cary according to region. OTA World's white glove delivery option includes in-home assembly, but can add 1–2 weeks to the shipping time.
Which Massage Chair is Right For You?
The team of specialists at Massage Chair Store has the knowledge and expertise to help customers choose their ideal massage chair. If you've seen something you like from the Osaki and Titan lines, chances are we carry a comparable model from Infinity, Kyota or Sharper Image — plus, you'll receive our A+ customer service and competitive warranty. Give us a call so we can help you find your next massage chair.