A Lesson in Massage Chair History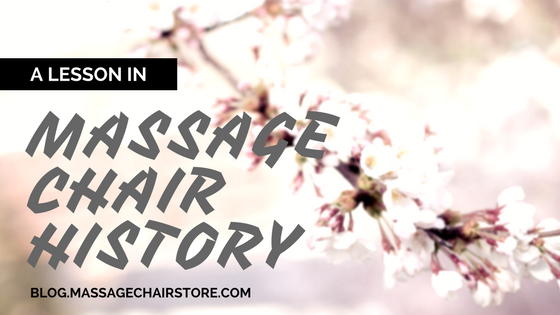 We've all seen modern massage chairs and have at least a general idea of the many functions of which they're capable, but how did they get to where they are today? Let's rewind to World War II-era Osaka, Japan for a quick lesson in massage chair history.
The first massage chair was invented here by Niichi Kawahara, who ran a local sewing machine parts factory and had a love for inventing things. Kawahara's daughter, Kazumi, suffered from very bad knots in her shoulders. While he would give her shoulder massages as frequently as possible, he was busy with work and wondered if he could create a machine to massage her even when he wasn't home.
Kawahara spent five years developing his first model until he completed it in 1950. According to Kazumi, he often worked through the night at the factory, working tirelessly to find a solution for her. His final product was built by hand, with the chair itself made of wooden boards and the inner workings inspired by sewing machine technology. Kazumi said that while the chair itself was not very comfortable, the massage mechanism "hit the right spot" and felt great.
But Kawahara didn't stop there. Japanese bathhouses, which were popular for centuries and offered massage therapy services, dwindled during World War II. This led to a rise in massage chair popularity during the post-war era. Tomoyuki Nakae, who owned one of these bathhouses and also liked inventing, discovered Kawahara's massage chair and instantly saw its potential as a business opportunity. They worked together to improve the original model and in 1953 released a new version that was lighter and easier to transport, and even included a coin slot for use at the bathhouses.
Soon, chairs were added to bathhouses throughout Japan as various manufacturers developed their own models. As the bathhouse market slowed, these manufacturers targeted the home market, and the massage chair industry has blown up from there. Developers continue to study real massage therapists and improve their creations in order to provide the ideal massage chair for people from all walks of life.
For more about the history of electric massage chairs, check out the episode of Begin Japanology below. Hosted by Peter Barakan, this piece covers a complete and interesting evolution of the Japanese massage chair.