How Much Should You Spend on a Massage Chair? The Truth Behind the Price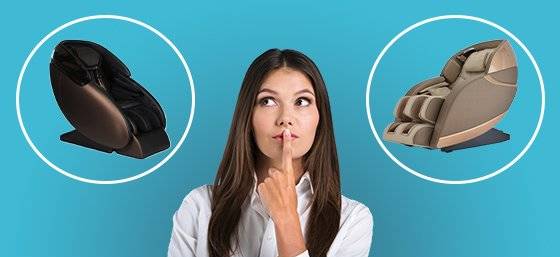 Introduction
At the end of a long day, there's nothing like sinking into a comfy chair and letting its soothing vibrations melt your stress away. A quality massage chair is a priceless investment for many — you can't put a dollar amount on relief! But some shoppers seeking to de-stress are surprised when they find out how much a massage chair costs. If they don't abandon the search altogether, they might settle for a lower-quality model prone to malfunctions. Talk about a pain in the neck.
So why do luxury massage chairs come with such hefty price tags? Are they worth it? Why might you invest in a $10,000 chair when you can find one for $500? We're here to help you understand how cost can guarantee peace of mind (and body).
Cost Drivers: What Factors Contribute to Massage Chair Price?
You may have heard that a massage chair is a long-term investment in your health. But what does that mean, exactly? How can you be sure that a higher price tag leads to better overall health and wellness?
Dr. Alan Weidner of massagechairrelief.com conducted a comparison of two massage chairs: One a no-name, inexpensive massage chair from an online retailer, and the other the Infinity Genesis SE (discontinued), the newer model of which retails at $9,499. Based on Dr. Weidner's findings, here are the main differences that set premium massage chairs apart from the rest:
| | | |
| --- | --- | --- |
| Element | "No-Name" massage chair | Luxury Massage Chair |
| Rollers | Unforgiving "nodules" deliver a uniform, limited 2D massage. | Spring-loaded rollers deliver a dynamic, 3- or 4D massage, rather than a limited, repetitive motion. |
| Mechanism | The static mechanism does not adapt to different body shapes/pressure points. There are gaps between the rollers or nobules. | The intelligent mechanism uses body scanning to adapt to your specific needs. Full body means full body – no gaps between the rollers. |
| Parts | Cheap plastic or plywood parts are more likely to break down faster. | Contains durable, often metal components. Rollers will usually be made of a softer rubber. |
| Massage modes | Single or limited massage programs/modes. | Multiple, often customizable massage programs/modes. |
A lower price tag doesn't just result in inferior performance; it may also mean that you'd be missing out on some of these popular massage chair features:
Body scanners: The intelligent internal mechanism will detect your unique pressure points and adjust the rollers accordingly.
Chromotherapy: This light therapy technique helps balance your physical, mental, spiritual and emotional energy.
Hand massagers: Rollers in the armrests give special attention to your hands. Great for treating symptoms of arthritis.
Head massagers: Rollers on either side of the headrest can target your neck and upper shoulders. Some dedicated head massage bands can even simulate a scalp massage.
Heat therapy: Infrared heat helps relax tight muscles, which can result in a more effective massage.
Hydromassage: Water and heat combine in the layer between the massage chair mechanisms and upholstery to help relax and loosen tight muscles.
Inversion: The massage chair can recline past 180 degrees, so that your heels are above your head. This is thought to reduce the effects of gravity on the body by taking pressure off your spine.
Leg massagers: Designated rollers in the leg rest target your knees, calves and thighs.
Speakers: Often Bluetooth-enabled, these allow you to relax to your own music, audiobooks or podcasts. Many massage chairs also come with soothing sound therapy programs.
Zero gravity: This technique extends your knees and elevates them above your heart, creating a sense of weightlessness that also helps your spine decompress.
In addition to saving money on costly repairs or replacements for inferior products, owning a massage chair nets a major return on investment when compared to the expense of regular massage appointments. And considering the physical and mental relief a massage chair offers, you're setting your mind and body up for long-term success with each session.
Massage Chair Price Ranges: Planning Your Massage Chair Budget
Even without all the bells and whistles, it's rare to find a new massage chair from a highly rated brand for under $1,500. Many massage chairs that incorporate a combination of premium features — like zero gravity, heat therapy or a leg massage function — typically start at around $1,600.
Massage chairs often come with limited warranties that cover framework, labor and parts for 1 to 5 years, though extended warranties are usually available for a few hundred dollars more. All told, you should prepare to spend at least $3,000 on a luxury massage chair, though the most advanced models can clear $12,000.
Beware the Cheap Massage Chair
You may be tempted to save a bit of money on your massage chair, but the risks of sacrificing quality for price should give you some pause. These include:
Poor customer service/companies just interested in moving units: Inexpensive products move fast, in part because they break or malfunction so easily. Customer service agents at companies that deal in cheap massage chairs aren't usually having pleasant conversations with customers. It's not surprising, then, that these companies garner bad reviews and earn negative reputations.
Sacrificing health and wellness: Massage chairs without dynamic mechanisms can put undue stress and pain on your pressure points by working over the same areas repeatedly and without variation. You shouldn't be in pain or feel less relaxed after leaving your massage chair — that's the exact opposite of its intended purpose.
Weak features (vibration, heat, etc.): As evidenced in the comparison conducted by Dr. Weidner, cheaply made mechanisms can result in less effective functions — or worse, functions that barely register to the user!
Bad/no warranty: The last thing you want with a cheaply made product is no guarantee that you'll get your money back if something goes wrong. Short-term warranties (<1 year) imply not only that the product is bound to break within the first year, but that the retailer doesn't care enough about their reputation to ensure customer satisfaction. If a massage chair comes without a warranty, that's a major red flag.
Difficulty finding parts/repair assistance: High product turnover can mean that certain models have shorter lifespans, so finding replacement parts can be a fool's errand. Massage chair repair servicers may also be hesitant to work on a cheaper model, since they know their first repair likely won't be their last, and finding parts becomes more difficult with time.
FAQs
Q: What is the price range for a zero gravity massage chair?
A: $1,599-$12,000.
Q: What is the price range for a heated massage chair?
A: $1,599-$12,000.
Q: What is the price range for a luxury massage chair?
A: $7,000-$12,000
Q: What is the price range for a hydromassage chair?
A: $3,000-$20,000
Q: What is the price range for a leg massage chair?
A: $1,599-$12,000.
Q: Can I finance a massage chair?
A: Yes! Massage Chair Store's Affirm Capital Financing Program offers 0% financing on all models, starting as low as $80/month. Choose from plans starting at three months; plans up to 48 months are available.
Find Your Perfect Match at Massage Chair Store
Armed with the knowledge of what sets luxury massage chairs apart, you're ready to find your perfect chair. Our team of fully trained Massage Chair Specialists — ranked #1 in customer service in our industry — is prepared to answer all your questions as you explore our wide range of offerings. So sit back, relax, and let the team at Massage Chair Store guide you to a healthier, less stressful life.