The Top 10 Infinity Massage Chairs for 2023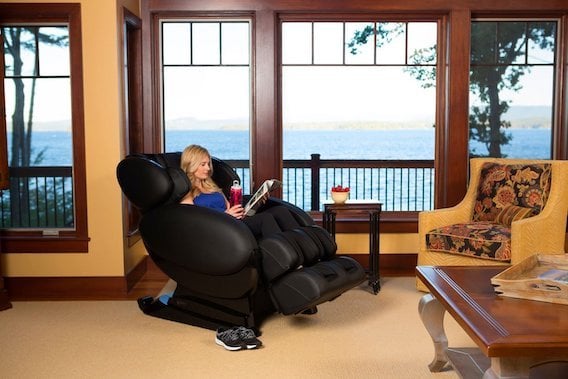 Infinity massage chairs have a well-earned reputation for advanced engineering, avant-garde technology and unrivaled customer support. Whether you're looking for your first massage chair or your fifth, you can't go wrong with an Infinity. But which one of their many models should you choose?
We've combed through product reviews, designs and features to compile a list of the 10 best Infinity massage chair models. Read on to learn about the brand and the features of each model.
What You Get with an Infinity Massage Chair
Forward-Thinking Technology & Innovation
Infinity has been the industry leader in massage chair technology for the last decade. The brand is always at the forefront of incorporating new massage technologies, which has included:
Reflexology
Space-Saving Mechanisms
3D/4D Massage Technology
Inversion Therapy
Decompression Stretch Technology
Nationwide Service Network
Infinity's headquarters is in New Hampshire, where they have an in-house support team and a warehouse of individual parts and components for nearly every model of their massage chairs. Should your massage chair require a new part, Infinity can send you a replacement in a fraction of the time it would take to receive one from a competitor overseas.
The Infinity office also maintains fully assembled models of every massage chair they sell, giving their in-house support team an advantage when troubleshooting issues and assisting customers.
Infinity Care Warranty
All Infinity massage chairs come with Infinity Care, a 5-year U.S. residential limited warranty that includes:
Unlimited U.S.-based customer and technical support
5-year structural frame warranty
No-cost replacement on covered parts for 3 years
Complete care/no-cost covered parts and covered labor (in-home, if necessary) for 1 year
One of Infinity's true differentiators in the massage chair industry is their in-home service. Infinity will replace all covered parts and arrange for them to be delivered to your home. Plus, they will even set up a time for an authorized service provider to repair your massage chair in your home, at no charge.
The Top 10 Infinity Massage Chair Models
With such a diverse product line, there is an Infinity model that is sure to fit any budget and lifestyle. Check out our selection of their top 10 models below!
| | | | |
| --- | --- | --- | --- |
| Model | Price | Rollers | User Heights |
| Infinity Prelude | $3,499 | 2D, S Track | 4'11" – 6'6″ |
| Infinity Aura | $4,499 | 2D, L Track | 4'11" – 6'6″ |
| Infinity IT-8500 Plus | $5,499 | 2D, S Track | 5'1″ – 6'2″ |
| Infinity Solstice 4D | $7,999 | 4D, L Track | 4'6″ – 6'3″ |
| Infinity IT-8500 X3 | $8,499 | 3D/4D, S Track | 4'11" – 6'6″ |
| Infinity Evolution Max 4D | $9,499 | 4D, L Track | 5'2″ – 6'9″ |
| Infinity Dynasty 4D | $9,999 | 4D, L-Track | 5′ – 6'6″ |
| Infinity Genesis Max | $9,999 | 3D/4D, L Track | 5'2″ – 6'6″ |
| Infinity Palisade | $10,999 | 3D/4D, L Track | 5'2″ – 6'9″ |
| Infinity Circadian Syner-D | $12,999 | 4D, L Track | 5'0″ – 6'4″ |