Your Guide to the 6 Best Massage Chairs Under $5,000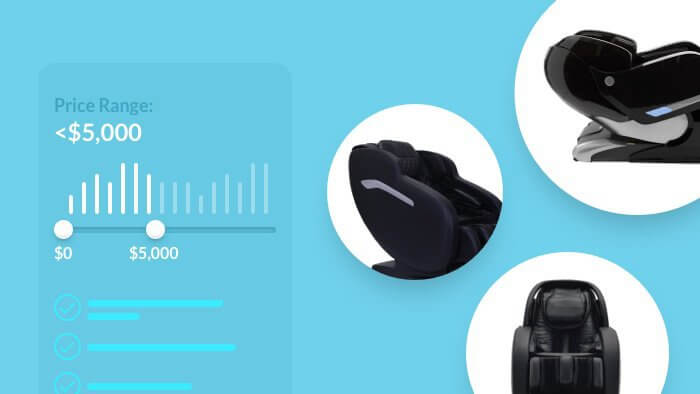 There are a lot of massage chair brands out there, so it can be challenging to find the right massage chair that offers the perfect combination of features, functions and cost. If you're looking for a chair that fits within a budget, you want to avoid purchasing a "cheap" massage chair — because you'll end up paying more over the long term with frequent repairs and services.
To help you out, we've put together a list of the top-rated massage chairs under $5,000 — including key features, current pricing and color options. Check out our full list below and you could find your next massage chair.
Selecting the Right Massage Chair Under $5,000 — Key Features to Consider
Massage chairs in the $5,000 range are great options that provide a balance of affordability and a selection of certain premium features. These massage chairs aren't as simple as budget massage chairs and won't cost as much as the more expensive premium models.
Certain features can make all the difference for your comfort and convenience. Here are the major features you should be aware of when looking at different massage chair models, and the benefits they can offer:
3D Massage: This is a more advanced version of the traditional 2D Massage offered by most massage chairs. This roller design allows you to adjust the intensity of the massage chair rollers for a more individualized massage.
4D Massage: A more advanced design over 3D Massage, 4D offers a deeper reach and more variable pressure. This feature is particularly helpful for those experiencing back and shoulder issues.
Airbags: Aside from the rollers, airbags are the other means for a massage chair to apply pressure to the body. Airbags deliver a compression massage and are usually located in areas that lack rollers, such as the side of the chair and along the legs and arm rests.
Body Scanning: Everybody is different, so the best massage chairs need to be able to adjust to your specific height and build. Body scanning technology measures your body and then adjusts and tailors the rollers to target your unique pressure points.
Bluetooth: Most modern chairs are able to connect to mobile devices via a Bluetooth connection. This allows you to connect wirelessly to the chair speakers to play your own music or even operate the chair through an application.
L-Track: This refers to the design of the rollers along the back of the massage chair. In an L-Track massage chair, the rollers travel from the neck down to the glutes and may even extend down to your hamstrings.
Memory Settings: A chair with a memory setting will allow you to save a certain number of custom massage programs. This provides a quick and convenient massage session without having to choose through different settings.
Reflexology: This will refer to foot massage features. The massage chair is able to apply pressure to the soles and tops of your feet, providing a relaxing foot massage.
S-Track: S-Track massage chairs follow the curve of your body and spine from the neck to the lower back. They tend to not be as long as L-Tracks, instead extending only to the lower back.
SL-Track: Sometimes referred to as a J-Track, this design combines the best features of the L- and S-Tracks, offering a more natural body alignment that extends down past the lower back to the glutes.
Space Saving: Massage chairs can take up a fair amount of real estate in a room. Space saving design moves the chair forward when in use, allowing you to more easily set up your massage chair against a wall to save space.
Zero Gravity: Not literal zero gravity, this is a position that extends your knees outward and elevates them above your heart, creating a feeling of weightlessness that also helps with spinal decompression.
There are a few other novel features and functions you can find in massage chairs, such as heaters and voice control. For more details on these features, see our Massage Chair Glossary of Terms.
When you know which features are your "must haves" and which are the "nice to haves," you're better able to make an informed decision about which chair is right for you. With that in mind, here's our top picks for the best massage chairs under $5,000.
6 Best Massage Chairs Under $5,000
Price: $4,999
Colors: Bronze/Brown, Black & Black
If you're looking for a high-quality massage and top-of-the line luxury features, then it's going to be hard to beat the value of the Kyota Yosei M868 4D. Normally more than twice as much as this listed price, this massage chair is a top seller for very good reasons. The M868's 4D rollers are very versatile with varying degrees of intensity, while a host of added techniques like airbag compression and total sole reflexology provide massage benefits from head to toe. The Bluetooth speakers even include a sync feature that can apply the massage strokes in rhythm to the music.
Key Features:
Air ionizer
Airbag compression therapy
Automatic footrest extension
Bluetooth speakers
Calf kneading and oscillation
Chromotherapy
Custom massage program storage
Decompression stretch and waist twist
Lumbar heat
Smart body scanning
Total Sole Reflexology
USB charging port
Zero gravity recline
Ideal for: Anyone looking for a great deal on the highest quality massage and a robust number of features and functions.
Price: $3,499
Colors: Brown, Black
The Kyota Genki M380 provides the features of a high-end massage chair but at half the price point. It achieves this by using an L-Track 2D roller system. Though 2D rollers aren't as robust as 3D rollers, the M380's four node, 360° rotation rollers allow for greater coverage than standard 2D rollers.
Key Features:
12 fully automatic programs, plus 3 MyMemory programs
Bluetooth speakers
Calf kneading and oscillation
Chromotherapy lights
Intelligent voice command and control
Lumbar heat
Total Sole Reflexology
USB charging port
Zero gravity recline
Ideal for: Those who prefer lighter intensity massages and are interested in lower body relief, who want to enjoy certain premium features but without paying a premium price.
Price: $3,999
Colors: Black
For those looking for a no-frills, pure massage experience, you've found the Sharper Image Revival. Featuring an L-shaped track design, the Revival's 4 massaging nodes provide you with kneading, tapping, kneading with tapping, shiatsu and knocking techniques from neck to glutes. Easy-to-use choreographed programs offer a quick selection of massage techniques.
Key Features:
Automatic programs
Lumbar heat
Shiatsu reflexology
Space saving design
Zero gravity recline
Ideal for: Those who want to invest in just the massage techniques and aren't interested in the more advanced features of other chairs.
Price: $4,899
Colors: Black, Brown, Cream
If you're interested in the decompression stretch and waist twist of the Kyota Yosei M868 but would rather cut a few features to save a little more money, then the Infinity Aura is a great choice. Its L-Track design features elements like body scanning and a full-body airbag compression massage that are usually found only in luxury models. The decompression feature uses powerful stretching techniques to extend and decompress your spine in order to relieve back pain.
Key Features:
Airbag compression massage
Bluetooth speakers
Decompression stretch and waist twist
Lumbar heat
Reflexology massage
Smart body scanning
Space saving design
Zero gravity recline
Ideal for: Anyone looking for a chair that is designed to help alleviate back pain and provide spine relief.
Price: $2,999
Colors: Brown
The unique design of the Kyota Kenko M673 3D/4D makes it an attractive purchase if you're concerned about massage treatment for your legs and arms. Featuring the longest calf massage available, the M673 provides a compression massage from the knees down to the feet, offering comfort to a wide height range from 4'10" up to 6'4". With 3D/4D massage rollers on an L-track, airbag compression and targeted arm massage, this is a great massage chair for many different body types.
Key Features:
Airbag compression
Bluetooth speakers
Extra long calf coverage
Intelligent body scanning
Lumbar heat
Space saving design
Targeted arm therapy
Triple roller reflexology
Zero gravity recline
Ideal for: Those who are a bit taller and are looking for a comfortable chair that provides some luxury features.
Infinity Evolution 3D/4D (Certified Pre-Owned)
Price: $4,799
Colors: Black, Brown
If you're hoping for a greater array of luxury features in a massage chair under $5,000, consider purchasing a certified pre-owned chair. All pre-owned massage chairs sold by Massage Chair Store receive a 37-point inspection from our factory-certified technicians. When it passes inspection, it's repaired if needed, cleaned and repackaged for sale. The Infinity Evolution 3D/4D is a higher-end chair that usually comes in at a higher price point due to the quality of its 3D/4D massage and suite of advanced features. The one downside is that these massage chairs are limited in quantity, and so they won't always be available at this price.
Key Features:
Adjustable shoulder airbags
Air ionizer
Automatic footrest extension
Bluetooth speakers
Calf kneading and oscillation
Custom massage program memory
iOS & Android App
Intelligent voice command and control
Lumbar heat
Rocking technique
Space saving design
Triple roller reflexology
USB charging port
Zero gravity recline
Ideal for: Someone who's hoping to score an incredible deal on a higher-end massage chair that offers a wide selection of luxury features.
2 Massage Chairs Just Over $5,000
Sometimes finding the perfect massage chair means spending just a little bit more. Here are two other great massage chair values that are available for just over $5,000.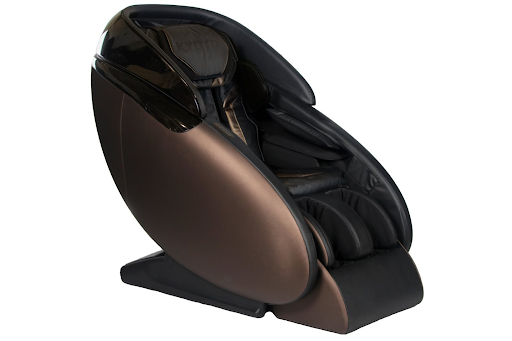 Price: $5,999
Colors: Black, Brown
If you want the broadest back coverage for your massage, then the Kyota Kaizen M680 has you covered. Its unrivaled 4D 6-Node back mechanism provides a wide range of massage intensities and wider contact across your body. A tri-zone heating system offers relief for more of your sore muscles, and its exclusive arm kneading mechanism offers targeted relief for the arms, wrists and hands.
Key Features:
Adjustable shoulder airbags
Automatic footrest extension
Auto massage programs
Bluetooth speaker
Calf kneading and oscillation
Intelligent body scanning
Reflexology
Space saver design
Targeted arm therapy
Tri-zone heat
USB charging port
Zero gravity recline
Ideal for: Those who want full back coverage and are interested in more heat zones and targeted treatment for the arms and hands.
Price: $5,499
Colors: Black & Silver, Brown, Taupe, Grey
Featuring 3D massage rollers on a SL-Track, the Osaki OS Pro-Admiral is a well-rounded choice for those looking for a 3D chair that comes with a few of the more standard luxury features. This chair comes with a wide variety of programs and offers Chinese, Korean and English language options.
Key Features:
16 automatic programs
Auto body scan
Airbag compression
Bluetooth speakers
Extendable footrest
Lumbar heat
Multiple language settings
Space saving design
Triple roller reflexology
USB charging port
Zero gravity position
Ideal for: Anyone who wants a well-rounded 3D massage chair and isn't looking for calf or arm massage features.
*Listed prices are as of April, 05 2023 and are subject to change.
Which Massage Chair Is Right for You?
Depending on your budget and desired features, you should be able to narrow down your options. However, even when you know what you want, choosing the right massage chair can feel a little stressful. That's why the team of specialists at Massage Chair Store is happy to lend a hand. Our experts have the knowledge and expertise to help you choose your ideal massage chair.
We carry several of the brands on this list, and if you see features that you like, we can consult with you to find a chair that best fits your needs.
Give us a call to discuss your options with one of our massage chair experts to experience our A+ level of customer service. Book your free consultation today.
FAQs on Affordable Massage Chairs
Q: What key features should I look for when selecting a massage chair that fits my budget?
A: What separates massage chairs from each other are mainly the types of rollers they use, the design of the track and its additional features. Determine if you want the higher intensity of a 3D or 4D chair, or whether you'd rather prioritize additional features like full-body airbag compression, body scanning and multiple heat zones. You also want to look at the recommended height and weight for each massage chair to make sure that you'll be able to sit in it comfortably.
Q: Where is the best place to purchase a reliable massage chair?
A: It's important to purchase your massage chair from a reputable company. Always take into consideration customer reviews and warranty options. Though it may offer a range of wellness benefits, a massage chair is not a cure-all, so beware of companies that advertise their products as such.
Q: What are the main differences between a budget massage chair and a premium massage chair?
A: Budget-friendly massage chairs may not include all of the cutting-edge technologies that more expensive models have, such as voice control, air ionizers or sophisticated control panels. Premium massage chairs come with many unique features, from voice control and advanced body scanning to AI assisted massage programs. Finding the right balance between the features you want and what you want to pay can help you decide on the right massage chair.