Best Small & Compact Massage Chairs — Your Buyer's Guide
With more people working from home, massage chairs are proving to be an increasingly valuable addition to any home. The easy access to health and wellness benefits provides  welcome relief from work-related physical and mental stress.
Because of their expansive features, massage chairs can take up a fair amount of real estate in a room, so full-sized chairs may be challenging to fit within smaller homes, condos or apartments. Thankfully, there's a range of compact massage chairs that provide the same great benefits of a full-sized chair while taking up less space within a room.
What Is a Compact Massage Chair?
While there's no strict definition for what makes a massage chair "compact," in general it comes down to space-saving design features that reduce the dimensions or weight. That's not to say that compact necessarily means small massage chairs or that they're lacking in features. Modern compact massage chairs are designed to provide a similar range of functions compared to full sized chairs, so there's no need to sacrifice comfort for utility!
How Compact Massages Chairs Work
Compact massage chairs work like any other massage chairs, and are just smaller in some areas to reduce height, width or length. Most space-saving massage chairs are built so that the frame of the massage chair can fit in smaller places while still effectively cradling the body.
It's important to understand that compact doesn't mean "cheap." Well designed, modern, compact massage chairs are built to balance ergonomics, massage features and quality with space efficiency, so they can include many of the high-end functions of other massage chairs.
This does mean that compact massage chairs will lack the full range of features offered by a high-end standard sized massage chair. One smaller massage chair may lack a leg massage function, while another may not have heat therapy to save space and weight.
Benefits of Compact Massage Chairs
Compact massage chairs provide all the same great benefits as full-sized modern massage chairs. Massage therapy helps to:
Alleviate chronic pain
Reduce anxiety and stress
Lower blood pressure
Address symptoms of depression
Best of all, owning a massage chair allows you to receive a massage therapist-quality massage conveniently at home, whenever you want. The added benefit of a "compact" chair is that they're easier to move and assemble within a space – allowing you to enjoy these great massage benefits without having to organize an entire room around a massage chair.
What to Look for in a Compact Massage Chair
Because compact massage chairs will need to cut a feature or two in order to reduce size, you'll need to determine what your "must have" features are for your massage chair. Do you need heated seats, arm massage, foot massagers and zero gravity positioning – or are you comfortable with not having one or more of these features?
To better identify your best compact massage chair option, it's important to understand some specific terms:
3D vs 4D massage – Refers to the capabilities of massage chair rollers. 3D massage operates on the X, Y and Z axis and can move up, down, left, right and diagonal. 4D also offers variable roller intensity to adjust pressure.
L-Track vs S-Track massage – Refers to the positioning of the massage chair roller track.  S-Track is shaped to follow the curve of the spine and ends at the lower back. L-Track extends past the back, reaching the glutes or hamstrings.
Inversion Therapy vs Zero Gravity – Zero gravity is a reclining function that places your body in a gravity neutral position that evenly distributes your weight, which lowers your heart rate, reduces tension and boosts healthy circulation. Inversion lowers your body even deeper, to about a 180 degree angle, to elongate your spine for a decompression stretch.
Body Scanning – This feature allows the chair to scan the dimensions of your body, allowing it to properly adjust its positioning so that the massage techniques can reach the correct areas of your body.
Space Saving – Also referred to as wall-saver massage chairs, these chairs are designed to recline and rotate in such a way that they can be placed closer to the wall than a regular massage chair and still fully recline. Be sure to review the specifications of a massage chair, as not all chairs marketed as "space saving" are all that compact.
To truly measure if a massage chair is small or compact enough for your space, you'll want to look at and compare the actual dimensions. For example, here are the dimensions of a "regular" sized Infinity IT-8500 X3 3D/4D.
Upright Chair Dimensions

35″w x 59″l x 46″h

Reclined Chair Dimensions

35″w x 74″l x 36″h

Chair Weight

265 lbs

In comparison, here are the dimensions of a more compact Infinity Riage CS.
Upright Chair Dimensions

23″w x 38″l x 38″h

Reclined Chair Dimensions

23″w x 54″l x 29″h

Chair Weight

87 lbs
Top Compact Massage Chairs
In our review of the best compact massage chairs, we especially like the following Top 5 options. They are ordered from smallest dimensions to largest.
One of the most compact models you'll find, the Infinity Riage CS can easily fit into any home. Enjoy targeted massage from one of four auto programs, or create your own custom massage. Lumbar heat function and leg rest vibration loosens tense muscles and aids in circulation.
Price: $999.00
Features:
Adjustable Pillow
Calf Vibration
L-Track Quad Rollers
Lumbar Heat
Rocking Technology
Zero Gravity
Dimensions:
Upright Chair Dimensions: 23″w x 38″l x 38″h
Reclined Chair Dimensions: 23″w x 54″l x 29″h
Chair Weight: 87 lbs
Despite its compact frame, the Kyota Genki M380 offers many high-end massage features. Enjoy 360 degree sweeping 4-node back massage mechanism with five different massage techniques for a variety of massages across your body. Total Sole Reflexology foot roller, Total Calf kneading and oscillating calf feature provide high-end treatment for your legs. Its compact frame features Zero Wall Fit™ Space-Saving Technology, allowing the massage chair to require just 2″ of wall clearance.
Price: $4,999.99
Features:
360 degree 4-Node Plus Massage
Chromotherapy Lights
Complete Calf Kneading + Oscillation
Lumbar Heat
Total Sole Reflexology
Truefit Body Scanning
Zero Gravity
Zero Wall Fit™ Space-Saving Design
Dimensions:
Upright Chair Dimensions: 30″w x 46″l x 57″h
Reclined Chair Dimensions: 30″w x 74″l x 40″h
Chair Weight: 255 lbs
With a lightweight and compact frame, the Infinity Prelude combines simplicity with a wide array of popular features including air massage, decompression stretch and spinal correction. Its intuitive design and sleek style make it the perfect fit for any user and any home or office.
Price: $3,499.00
Features:
Adjustable Air Massage Intensity
Decompression Stretch
Lumbar Heat
Rolling Foot Massagers
Spinal Correction
Zero Gravity
Dimensions:
Upright Chair Dimensions: 31″w x 53″l x 48″h
Reclined Chair Dimensions: 31″w x 68″l x 28″h
Chair Weight: 154 lbs
For a compact model, the Kyota Kofuko E330 massage chair carries many features that are usually only found in more expensive models. Full back scanning automatically makes micro-adjustments for your body specifics while traveling L-track, 4-node massage works the back from the neck and shoulders down to the gluteus muscles. Zero Wall Fit™Space-Saving design allows the massage chair to take up less space within a room.
Price: $2,499.00
Features:
4-Node Massage
Airbag Compression Therapy
Foot Reflexology Rollers
L-Track Rollers
Lumbar Heat
Truefit Body Scanning
Zero Gravity
Zero Wall Fit™Space-Saving Design
Dimensions:
Upright Chair Dimensions: 32″w x 53″l x 45″h
Reclined Chair Dimensions: 32″w x 58″l x 33.5″h
Chair Weight: 185 lbs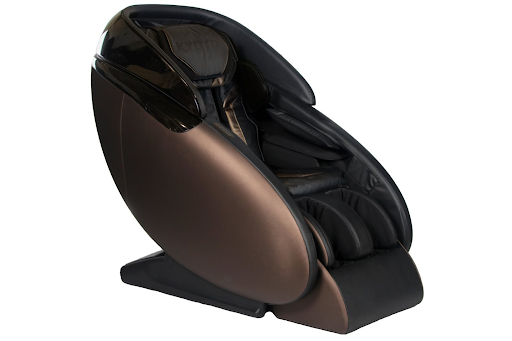 Though larger than most compact models, the Kyota Kaizen M680 3D comes equipped with Zero Wall Fit™Space-Saving Technology to allow it to fit comfortably within smaller areas. The unrivaled 4D 6-Node Back Mechanism provides the broadest possible back massage coverage while the Tri-Zone heat located in the back, arms and feet helps loosen up sore muscles. Both the Advanced Kneading Arm Mechanism and Complete Calf Kneading + Oscillation mechanism ensure that it's not just your back that's receiving therapeutic massage.
Price: $6,999.99
Features:
6-node 3D Back Mechanism
Adjustable Shoulder Airbags
Foot Reflexology Rollers
Targeted Arm Therapy
Tri-Zone Heat
Truefit Body Scanning
Truefit Footrest Extension
Zero Gravity
Zero Wall Fit™Space-Saving Design
Dimensions:
Upright Chair Dimensions: 34.5″w x 55″l x 53.5″h
Reclined Chair Dimensions: 34.5″w x 68″l x 38″h
Chair Weight: 300 lbs
Where to Buy Your Massage Chair
You can find small and compact massage chairs for purchase both online and in certain stores. Many brands have showrooms at their headquarters where you'll be welcome to browse, sit in and test their massage chairs.
Massage Chair Store carries many of these featured models along with other compact and standard sized massage chairs. All of our massage chairs also come with a risk-free 100-day trial and free delivery. Contact one of our massage chair specialists and we'll help you select the best massage chair that fits your needs and meets your relaxation goals.